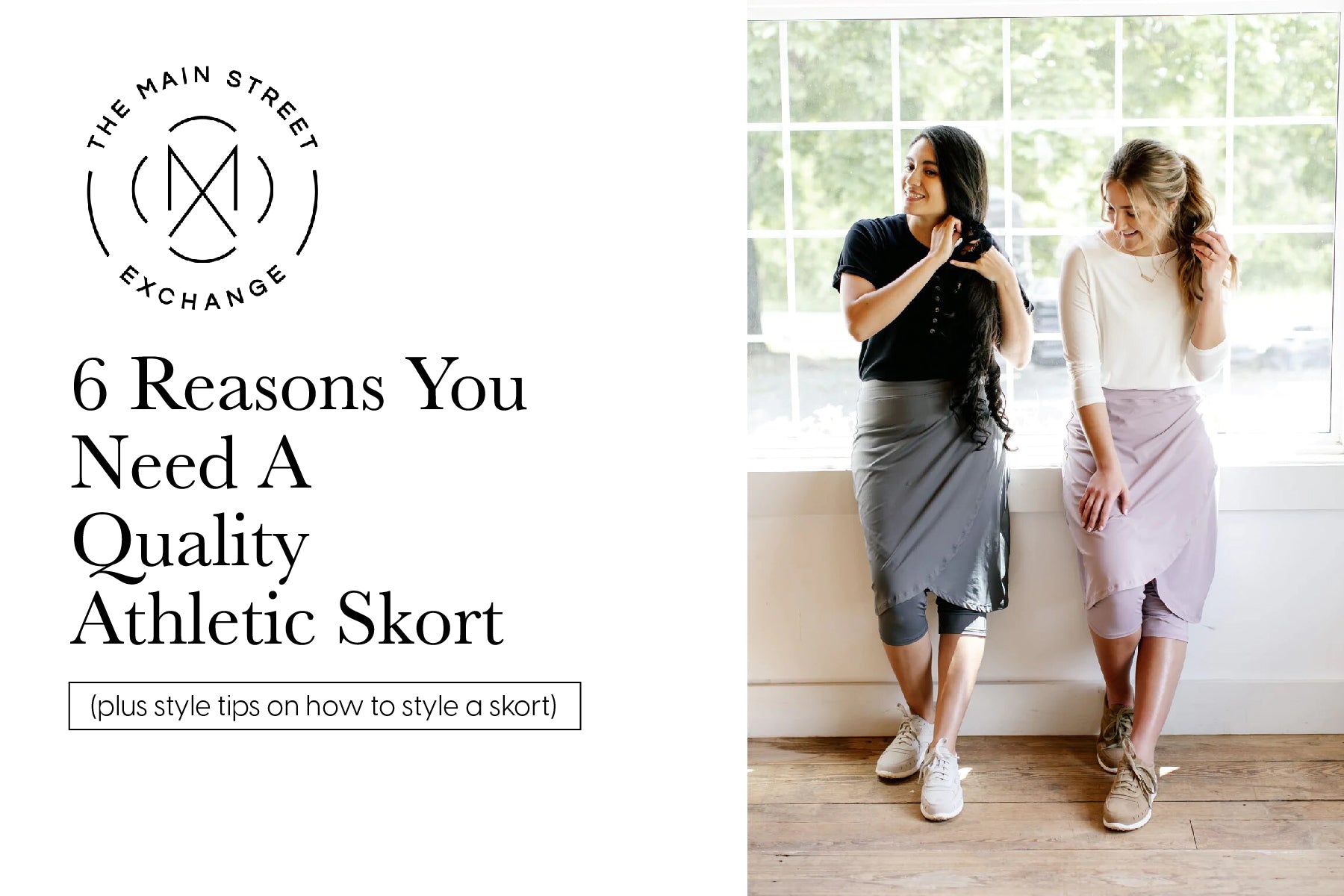 6 Reasons You Need A Quality Athletic Skort (plus style tips on how to style a skort)
If you live an active lifestyle, you are probably always on the hunt for outfits that are cute, modest, and functional. 
But finding clothes that check all the boxes can be like looking for a needle in a haystack! 
We understand the struggle. That is why The Main Street Exchange offers a variety of modest athletic skorts for women that provide both modesty and comfort. 
Want to know more? This article explores why you need modest athletic skirts, when to wear them, and how to style them. 
Let's get started!
What Is A Skort? 
First off, what is a skort? 
A skort is a genius clothing invention that crosses shorts and a skirt. It's like a pair of shorts or leggings underneath, but with a skirt or wrap-around over top. That way you get full modesty and coverage from the shorts while retaining the femininity of a skirt. 
Plus, it's all in one piece so you don't have to worry about piecing together a skirt with leggings. Skorts are the perfect choice for when you want to look cute and feminine while doing active things! 
6 Reasons You Need A Modest Athletic Skort
If you are reading this blog, you probably want to find cute, functional, modest women's athletic skirts, so you already know why modest sportswear is important. 
But here are a few reasons we love our skorts for women and think they are a staple every woman should have. 
1 - Modest 
Let's face it: 
Normal skirts and dresses aren't always the greatest for sports or other vigorous activities. A flowy, knee-length skirt that is modest for shopping or evening events may not be modest or practical for diving around on the volleyball court. 
Athletic skorts with leggings keep you covered even when you are active. The leggings underneath provide coverage and confidence for even the most intense activities. 
2 - Feminine 
Shorts are better than skirts for sports and active things, but some ladies prefer a more feminine look, even while playing sports. 
A modest athletic skort is the perfect middle ground between functionality and beauty! You can still feel feminine and ladylike, but you don't have to worry about your skirt flapping around too much while you run, and you still have the modesty element of shorts or pants.   
3 - Comfortable 
What you wear to play sports can actually affect your performance. 
For example, if your clothes are chafing while you work out, the chafing is all you will be able to think about, and you won't be able to focus on getting the most out of your workout. 
Or, if your tennis skirt makes you feel uncomfortable, you won't be able to focus on your tennis game. 
You want to be sure your sportswear is comfortable and functional so you can focus on your game! Made of light material that breathes well and stretches for maximum comfort, we design our skorts with comfort and functionality  in mind. 
4 - Inspires confidence 
The fact is, what you wear to play sports affects your mental state too. 
It's like this: 
When you go out in clothes you know may malfunction, that is seemingly all you can think about—and you live in constant fear of an embarrassing wardrobe malfunction like your skirt flying up, your shirt gapping, or a zipper splitting. 
And even if you aren't afraid of a malfunction, it can just be mentally distressing to wear something you don't feel completely confident in. Sometimes it gets in your head and creates a mental block that prevents you from doing your best. 
Nobody likes worrying about their clothes while they are trying to play sports! The best sports clothes are those you can put on and completely forget about. You want to be focusing on the game, not your clothes! 
The comfortable material our skorts are made of will keep you feeling good for the whole game or workout, and the leggings or shorts underneath will give you the extra confidence you need to go all out and play your best. 
5 - For your daughters 
It's fun to watch spunky little girls run and play with vigor and energy! 
A quality skort provides modesty while allowing even the most active little girl to participate in her favorite sports. It enables you to dress your daughters beautifully while not sacrificing comfort and functionality. After all, while you do want to dress your daughter modestly, you don't want to hinder her movement or hamper her fun! 
6 - Versatile for different occasions 
Not all the skorts for women we have at The Main Street Exchange are exclusively for sporting events. We also offer classier skorts that are perfect for school. Our school skorts provide comfort in the classroom and modesty on the playground! 
When To Wear Modest Athletic Skorts 
You need to know when it is and isn't appropriate to wear any fashion item. For example, a distressed denim skirt that would look great for a casual day out on the town would look totally out of place at a formal concert or dinner! So when should you wear your athletic skorts?
Thankfully, skorts aren't just for the tennis court or racetrack. Here are a few ideas for places you could wear your skorts. 
1 - Sports and exercise 
If you lead an active lifestyle, you need modest clothes that fit the bill. Skorts are one of the best things to wear for any active pastime. They make great running skirts, tennis skirts, or volleyball skirts.   
Whether you are signing up for your first 5k, taking a leisurely stroll with friends, or working out, a skort provides the style, comfort, and modesty you need. 
2 - Work 
A skort could be a good choice of work clothes depending on what you do.  
If you are a landscaper, mover, cleaner, or have another active job, a skort could be a comfortable and versatile choice for you. 
Even if you are a waitress, cashier, or secretary, there may be a skort that fits the bill. And some skorts are even office worthy! You couldn't ask for a more comfortable work outfit.  
3 - Casual events 
We will go over more on how to style skorts in the next section, but as a sneak peek, let's say that it's possible to style a skort, so it looks classy enough to wear to casual events or get-togethers, or even something more formal, like the office or an evening event.  
You could definitely wear your skort as a comfy outfit for a day out on the town with girlfriends or chilling at a friend's place! It's functional and comfortable all day long. 
4 - Around the house 
If you like wearing sweatpants around your house, we won't judge! :) 
However, if you want to look more put together but still be comfortable and laid back, a skort could be a great option. 
Plus, what if someone stops by your house unexpectedly, or you have a service person coming to fix a utility? In these cases, you might want to look presentable but still be comfortable. A skort is the perfect middle ground. 
5 - School 
Sportier skorts could be just the thing for gym class at school, but that doesn't rule out the possibility of wearing a skort to school all day. 
Some skorts look a little classier and make great school outfits with all-day comfort and modesty. 
Skorts can be especially nice for younger students who don't change for recess and need something that remains modest on the playground. Your kindergartener or first grader probably doesn't want to worry about her skirt flying up when she is climbing the monkey bars or playing tag on the jungle gym! 
6 - Travel 
When you travel, you want comfortable, functional clothes you feel good in all day. A skort is a perfect choice for flying or road tripping. 
A skort is also an excellent choice for long days of sightseeing and touring, especially if your day will include lots of walking. Skorts are comfy, functional and pair well with sneakers or other good walking shoes. 
The last thing you want is to be distracted by irritating or malfunctioning clothes while trying to enjoy a fun day of sightseeing!  
7 - Camping 
When you are camping or backpacking, you don't want your clothes to be finicky or get in your way. 
If you don't mind getting it a little smoky, a skort makes an excellent camping outfit. It's comfortable, laid back, and perfect for outdoorsy activities such as hiking or boating. It could even be a good choice for more strenuous outdoor activities such as overnight canoeing or backpacking trips. 
Plus, you can look stylish and feminine even out in the woods! 
What To Wear With An Athletic Skort 
Skorts are the perfect fashion piece for athletic events, but in reality, they are extremely versatile, and you can wear them for many different events. 
Let's look at several ways to style a skort for different occasions. We will give you a few ideas for each to get you started styling! 
For athletics
Skorts are a great way to look stylish and feminine while playing sports, and it couldn't be easier to style a skort for athletics. Here are a few ideas to get you started: 
Pair your skort with a simple sports shirt or t-shirt. Almost any

t-shirt

will do. 

If it's cooler, pull out a hoodie or a sports jacket. 

If you want to look a little preppy or like a pro tennis player, try a sporty polo shirt.  

You can wear your t-shirt tucked or untucked at the waist. 
For work 
You don't want to wear your sportiest skort to work. But some skorts are virtually indistinguishable from skirts. You could wear these skorts to work or even to classier evening events. 
Here are a few ideas for dressing your skort up a little: 
Combine your skort with a collared shirt tucked in at the waist. 

Try a less sporty polo shirt. This combo can make a super comfy and polished school outfit too! 

Try layering a patterned t-shirt or tank top with a blazer or jacket for a polished look. 
For casual 
Sometimes you want something comfy and laid back, nice enough to wear in public, but not particularly sporty. Enter the skort! It's cute enough to make you look put together but comfy enough to lounge in. 
Here are some style tips for wearing your skort to coffee dates or casual get togethers: 
Pair your skort with a

cute graphic T. 

If you are more of a minimalist, go for simple and classic with a plain white or black T-shirt.  

Wear a t-shirt and cardigan if it's cooler and you like layers.

Try it with a loose, comfy sweater or

sweatshirt

.  

Layer on a denim jacket. 
For classy events  
If your skort is the type you can barely tell from a skirt, it is perfectly acceptable to wear it to more formal events. You could dress it up with a nicer shirt and some dressy shoes. 
Here are a few more tips for dressing your skort up: 
Tuck your shirt in to look more formal.  

Try a

button down.

 

Add a blazer for a polished and sophisticated look. 

Wear a silky or

lacy shirt

for a romantic touch. 
For little girls 
If you have an energetic daughter, you probably still want to dress her feminine and modest. But you don't want to squash the energy and spunk out of her either! 
A skort for your active little girl is an ideal way to keep her covered while she is playing sports or swinging on the monkey bars. Plus, it's simple and easy for you as the mom. 
Here are a few ideas for ways to complete the outfit for your daughter: 
For school, do a polo shirt or casual button down, plus sneakers. 

If you want to keep it even more casual and simple, any t-shirt will work. Try out a cute graphic

t-shirt

or something really girly with sparkles and flounces. 

For summer, try a cute tank top to keep her cool. 

For cooler days, give her a

comfy sweater

or pullover.

Try some

practical sandals for your little girl

for ease and functionality. 
Conclusion 
It's hard to find modest clothes that support an active lifestyle! 
We understand the struggle, and we are here to help. Check out our collection of athletic skorts with leggings on our website if you are interested. 
Besides skorts, The Main Street Exchange offers a wide variety of other modest clothing for all occasions. 
Some of our other collections include: 
And more! We have clothes for girls, women, maternity, and plus sizes, all in modest, feminine designs. 
Visit our online store today!